I'm going to try something new and we'll see how it goes. Each week I'm going to post my thoughts on some of the comics I got the previous week as I add them to my inventory on
StashMyComics.com
. Some time will have passed since their release (at least a week) so I'm hoping spoilers won't be an issue. I will do my best to warn you ahead of time.

I'll also rate these on a 5 banana scale. It's pretty much Netflix's system.
5 bananas = Best. Thing. Ever.
4 bananas = Loved it.
3 bananas = Liked it.
2 bananas = Didn't care for it.
1 banana = Not even worth flinging poo at.
Here's what I bought last week:
Journey Into Mystery #646
Writer: Kathryn Immonen
Artist: Valerio Schiti
First jump back into this title in decades, but the Marvel Now! push and the start of a new storyline with Sif sucked me in.
It starts out light, edges towards silly and then finishes up a bit dark. In other words, it's right up my alley. I'm not particularly familiar with Immonen's writing but I think I'm a fan.
I also enjoy the artwork by Schiti (if that name is pronounced the way I think it is, then he's in even worse shape than I am). It was perfect match for the writing by capturing both a lightheartedness and a heaviness later. It's hard to explain so you probably should hit your comic shop and flip through an issue.
Amazing Spider-Man #698
Writer: Dan Slott
Artist: Richard Elson
I'm on the fence here. When I was done I had a "Oh no! They didn't just do that!" moment. (That's a good thing.) But since this was my first issue in a while and even though people are saying this is a good jumping on point, I just felt as if I was missing something.
I don't think I can really judge this issue until I read #699 when it comes out. I reserve the right to change my rating after than happens.
Hawkeye #4
Writer: Matt Fraction
Artist: Jarvier Pulido

I've been loving this series, but this issue just felt off to me. The premise is that there is a video tape that has captured Hawkeye assassinating someone and it would cause quite the scandal if it went public. Naturally it's being bid on by all kinds of unsavory characters.

I liked it, but again... as compared to the previous issues it left me a little flat.
Iron Man #2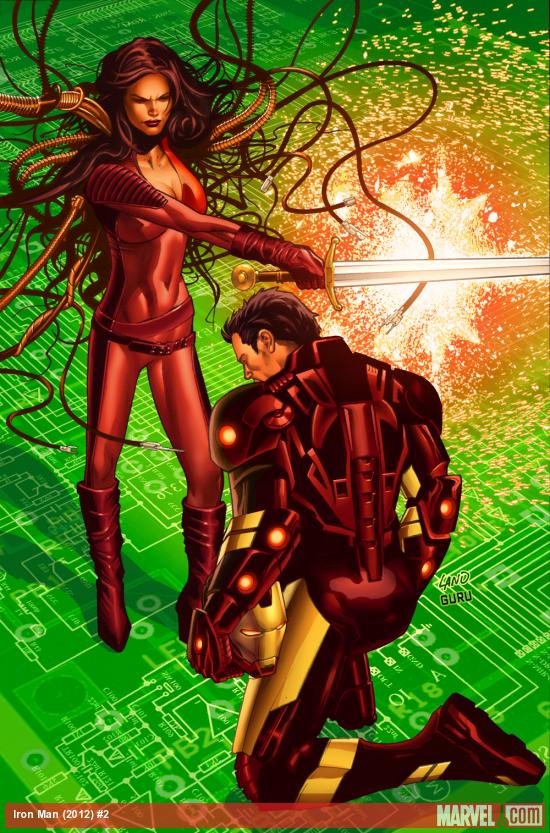 Writer: Kieron Gillen
Artist: Greg Land
More from Marvel and that makes this is a very unusual week for me. I'm on the fence for this title. This issue was OK, but not good enough to want to invest in the long haul. If things don't pick up next issue, it's gone.
Captain America #1
Writer: Rick Remender
Artist: John Romita Jr.
I am a long-time fan of Captain America so I might be a little overly-critical on how he is portrayed. Quite frankly, I did not care for how this new series is starting out. That Steve Rogers' father was abusive to Mrs. Rogers seemed unnecessary and the fact that Steve just blunders into his current predicament so blindly just did not seem believable. (Yes, I know it's a comic book. But still....)
I've also had a long-time love/hate relationship with John Romita Jr.'s art style. Sometimes I look at a page and think, "that's the coolest thing ever!" while other times I just can't stand it. I guess in that respect he's the perfect penciller for this story.
I'll give it another shot and it would kill me to drop it from my list, but it may come to that.
Indestructible Hulk #1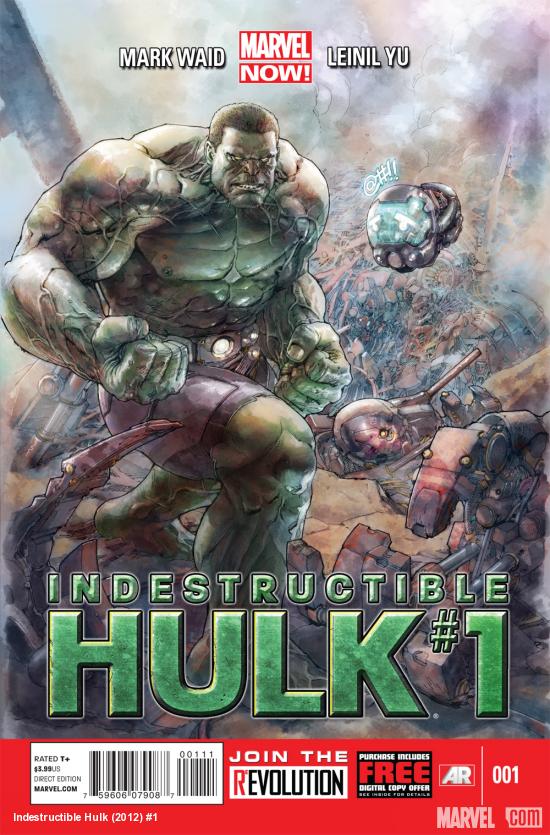 Writer: Mark Waid
Artis: Leinil Yu
As you might guess by the lead-in image for this post, this was my favorite comic of the week. The concept is brilliant. Bruce Banner wants to use SHIELD resources to better humanity through science while proving he's every bit the genius that Reed Richards and Tony Stark are. In return, when his chronic Hulkness flares up, SHIELD can point him at any target of convenience and then retrieve him after he is spent.
Pure. Genius.
I've heard some people complaining about the artwork and I'll admit that I'm not all that familiar with Yu, but I rather liked it. It tended to be a little rough and chaotic, but considering the title I'd say that's a good fit.
I
loved
the beginning scene in the diner when Bruce is talking to Maria Hill. The ticking clock and Ms. Hill's frightened looks every time someone bumped Dr. Banner... priceless.
I'm hooked.
Wonder Woman #14
X-O Manowar #7
Archer & Armstrong #4
Harbinger #6